Electric Vehicle Offers & Information
EV Charging Equipment Federal Tax Credit up to $1,000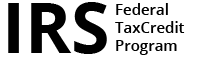 Consumers who purchase qualified residential fueling equipment prior to December 31, 2020, may receive a tax credit of 30% of the cost, up to $1,000. Permitting and inspection fees are not included in covered expenses.
NOTE: This incentive originally expired on December 31, 2016, but was retroactively extended through December 31, 2020, by Public Law 116-94.
Tax credit may be available for installations that took place in 2018 and 2019
Consult a tax professional to see if your installation qualifies
Visit IRS website for additional information
Print Brochure
Incentive Information
Federal Tax Credit of 30% of the cost of residential charging equipment, up to $1,000.
Electric Vehicle Federal Tax Credit up to $7,500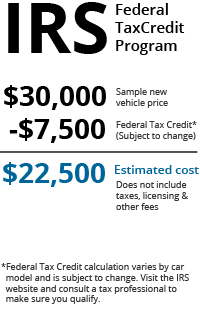 A federal income tax credit up to $7,500 is available for the purchase of a qualifying EV. The minimum credit amount is $2,500, and the credit may be up to $7,500, based on each vehicle's battery capacity and the gross vehicle weight rating. Your eligibility for income tax credits depends on your personal tax situation. We recommend speaking with a tax professional for guidance.
The credit begins to phase out for each vehicle manufacturer once they have sold 200,000 eligible electric vehicles in the United States (as counted from January 1, 2010). The IRS will announce when a manufacturer exceeds this production volume and will announce the subsequent phase-out schedule on the IRS website.
Consult your tax adviser to make sure you qualify
Max tax credit $7,500
Restrictions apply. Subject to change without notice
Print Brochure
Incentive Information
Electric Vehicle Federal Tax Incentive up to $7,500